I wanted to stop by and share a new resource that I am over the moon excited about!
ALPHABET LETTER ACTIVITIES
So much fun, right?!? I created these Alphabet Letter Activities to use with my youngest (who is currently in preschool). I needed something hands on and visual to use with him to practice letters! What I love about this resource is that the puzzle pieces can be used several different ways! Let's take a look.
Beginning Sound Mats: I color coded the letters (with a marker) and the puzzle pieces to easily differentiate which pieces were needed for which letter.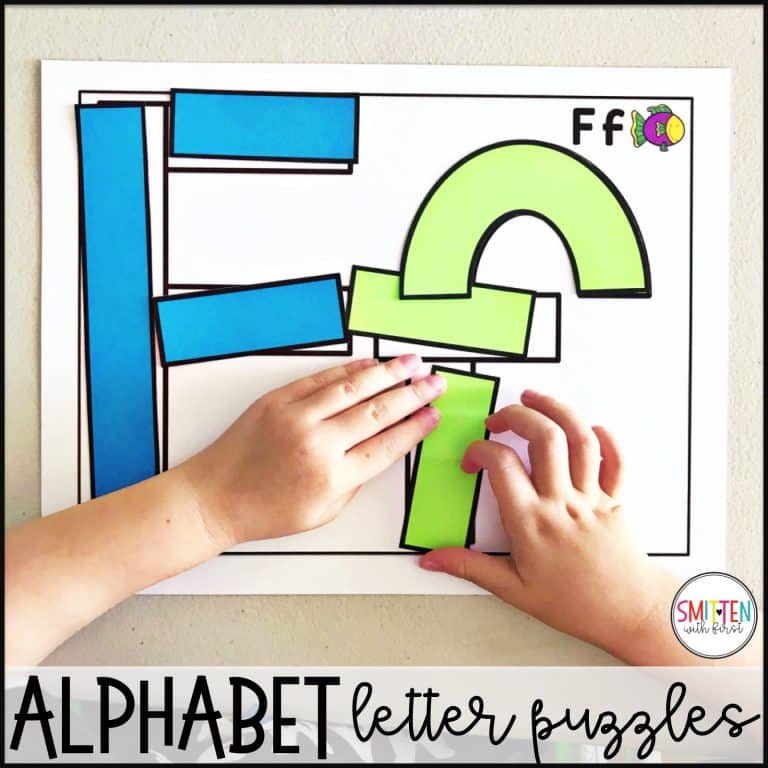 Students simply place the puzzle pieces where they go to build the capital and lowercase letter.
Above is another look at how the mats can be organized and used.  Simply glue the mat onto a 9×12 envelope with brads and store that specific letter pieces inside the envelope.
(Below is an affiliate link for envelopes! )
Name Practice: The letter puzzle pieces can be used for a craft like the example above. Students simply decorate the puzzle pieces and glue them to construction paper to create the first letter in their name! Perfect for Back to School, Letter of the Week, or even Open House!
Building Cards: Yep! These puzzle pieces can even be used like picture cards where students duplicate the letter independently.  Afterwards, students can trace the letter they built on the recording sheet.
My youngest is loving these puzzles! If you would like to see additional information about these puzzle cards, you can find that here!
All the above activities are found in my Alphabet Letter Building Activities resource HERE.
Pin for later?