Well, I am officially ready for bed! I woke up this morning all ready to go and mid morning I was dragging my feet!
As much as I wanted to go back to sleep, the kids were ready to go! I knew I had to keep things going with little to no down time today.
We are beginning to work on long vowel sounds (CVCe) so we started off by meeting our bossy friend E and making these hats.
You can download the hat blackline
here
.
In word work I pulled out
this goodie from last year
. It's super simple and gets the job done. The kids differentiated between long and short a words. You can find it
here
.
In reading, we dug through my new neighbor's trash and drew conclusions/inferences from the things we found. This is nothing new – I used it with my 3rd graders years ago and it was always a hit. My kids FLIPPED when I pulled out a diaper! Hilarious! Afterwards, they worked in groups to pick 3 things from the trash and write a conclusion about those 3 things.
I love how these turned out! You can download the trash craft
here
.
In math, we are working on skip counting. We started off reviewing skip counting by 10's with this hand activity. In small groups, we used these beaded number lines. I cannot take credit for this idea! Our math curriculum coach showed us these and they are seriously genius!
They were so simple to make. I actually made over the summer in just a few hours. All you need is a key ring, bungee cord, and beads. I got everything at Hobby Lobby. I made mine go to number 120, but you could definitely just do them to 100. Either way they hit the jackpot!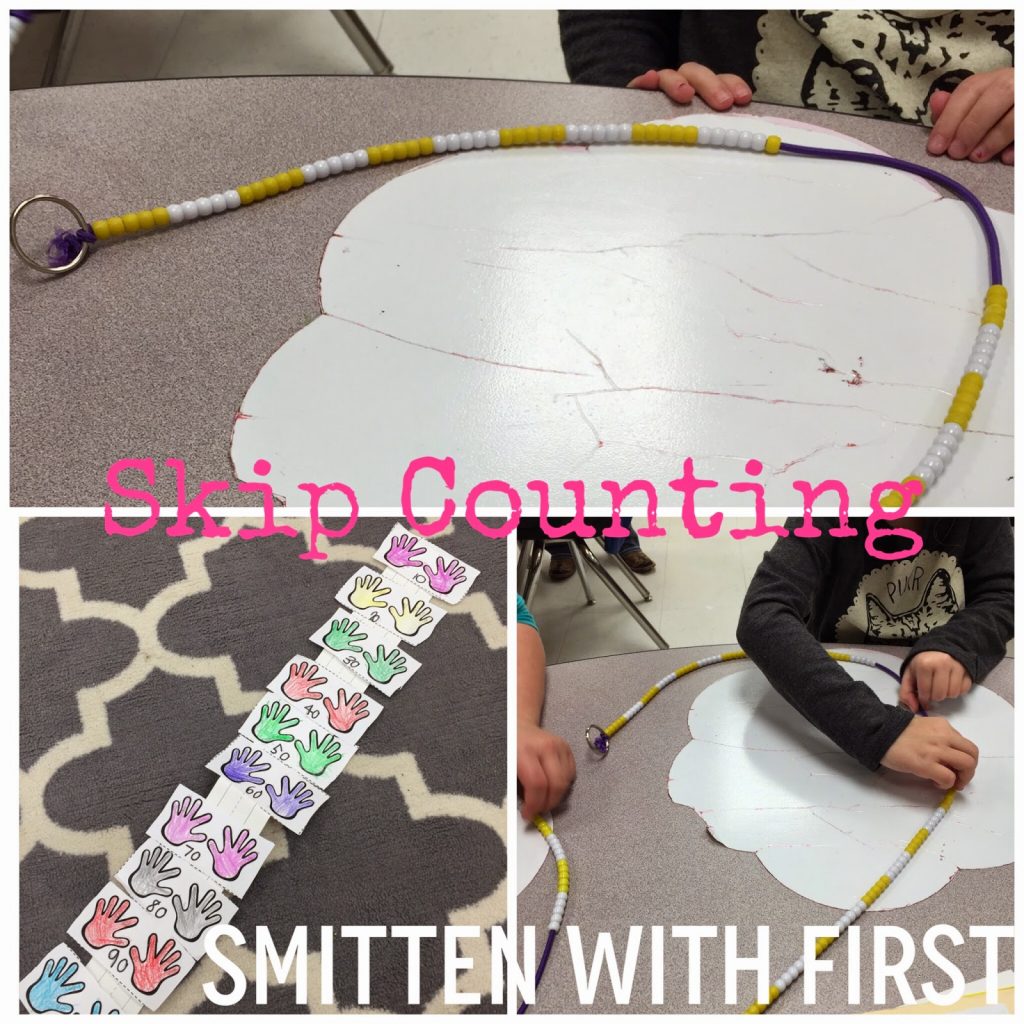 You can download the skip counting hands
here
. After writing their numbers, they glued the hands to a sentence strip.
While I was busy reinforcing counting by 10s with my small groups, the others were loving their new
Winter math stations
! We are constantly drilling number order and number lines so these two were a must for stations!
If you purchased
these stations
, you will need to re-download. The number cards to the number line were missing! And, it's on sale for the rest of the week! You can find them
here
.
Now, I'm off to hit the sack! See y'all later this week!