I have several different digraph ck phonics activities and games to share with you. These ck games and activities engage your students through interactive, hands on, and fun ways to practice -ck words and spelling rule.  Let's get started!
Over the past several years I incorporated Phonics Friends into my phonics instruction.  Phonics Friends are "friends" that help students remember phonics sounds and spelling rules.  You can read more about Phonics Friends and what they are here.
DIGRAPH CK PHONICS ACTIVITIES AND GAMES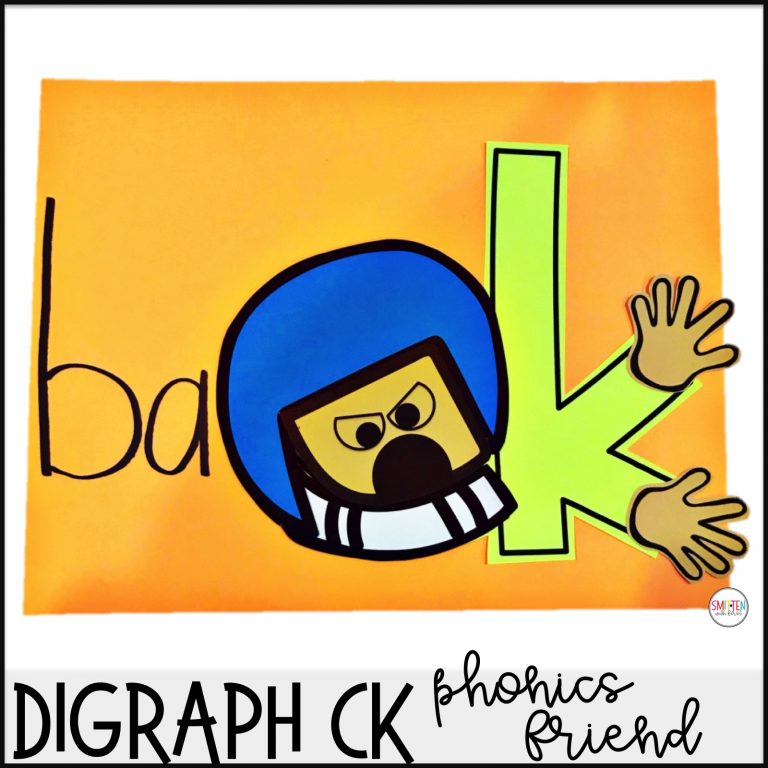 Phonics Friend Linebacker Jack will be an anchor for your digraph ck learning.  He helps students remember the ck sound and spelling rule.  When you introduce him to your class, really play it up – throw on a football jersey, bring in a football or anything else that fits the part and welcome your students to GAME DAY!  His job is to stay at the back of the word to protect the vowel from any other vowels trying to join the word.  When Jack puts his arms out, he says, "ck", "ck".
Roll and Draft CK is an interactive partner game where students take turns flipping over a word card, identifying if the word is spelled correctly using -ck, and rolling a die to see what they need to do with their -ck card. Only the -ck words can be drafted!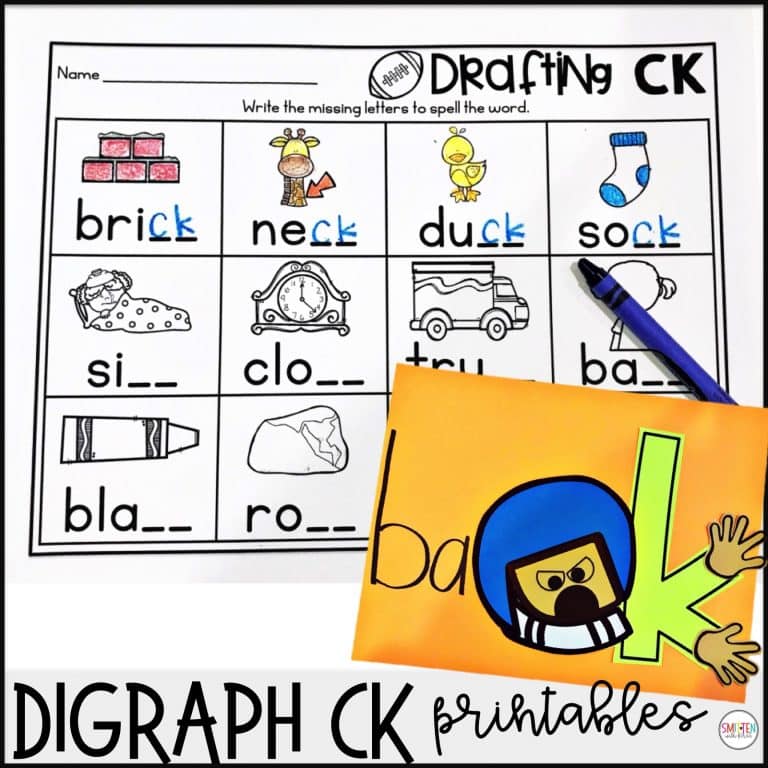 Drafting CK is an independent activity where students are applying the spelling rule for -ck.
Finger Football is a fun partner game to practice word reading.  Partners take turns flicking the paper football with their finger, reading the word that the football landed the closes to, and then recording that word and the corresponding points on their scoreboard.
Race to the End Zone is also a word fluency game.  Students work with a partner to read as many -ck words as they can before the timer goes off.  They record a tally mark each time they make it to the end zone!
Who remembers hopscotch? Finger Hop is just like that game, but with fingers! This is a partner game where students take turns reading -ck words!
End Zone Sounds is a sound game to practice segmenting -ck words.  This is a great game to reinforce that -ck makes one sound!
Dab It Out is another sound segmentation activity.  Students use bingo markers to dab out the sounds in the word.
Touchdown Bingo is a played just like the regular game of bingo – the teacher calls out the word and students cover that word with their game piece.  Add some extra fun to it with pretzels or goldfish for the game piece counters!
Let's take a look at some word work activities…
Puzzle Cards are always a good interactive way for students to practice building, reading, and recognizing words.  There are 2 different puzzle options for students to use.
Build It mats are another great way to practice building words.  These mats can be used with the paper letters that are pictured, or you can use magnetic and/or plastic letters.
These Word Cards can be placed in a pocket chart on the board for students to reference to if they need it when completing the Build It Mats.
Write the Room gets students up and moving around the classroom.  Tape the cards in your room and students walk around the room and record the answer on their recording sheet.
You can find all of the above activities plus LOTS more in my CK Phonics Friend resource here.
Like these activities and want to share them with your friends? Pin this pic!
SaveSaveSaveSaveSaveSave
SaveSave