Happy New Year! It finally snowed here! I think the last time it snowed in our area was maybe 4 or 5 years ago. We never get snow, so it is quite the treat when we do! Speaking of snow, I am sharing some States of Matter activities plus a free States of Matter snowman activity !
States of Matter activities
Sneezy the Snowman by Maureen Wright is such a great book. It can be used to teach comprehension skills as well as hitting those states of matter standards.  After reading, create a snowman out of ice and balloons with your class. Observe the stages of matter by watching the snowman melt and evaporate! I did this science activity with my kids at home and they absolutely loved it, even my 12 year old!
Step 1:
Freeze water in 3 separate balloons to make 3 balls of frozen ice. Let the balloons freeze for 2-3 days in the freezer.  I recommend not making the balloons too large.
Step 2:
Remove the balloons from the balls of ice.  Stack the balls of ice on top of each other. Use salt to help them "stick" together.  Cut the snowman accessories out of felt.  Add a little water to the felt to help it stick to the ice.
Step 3:
Observe the snowman throughout the day/s as it changes from a solid to a liquid. Discuss the changes and states of matter with your students.
Step 4:
Using a small portable burner, place the pot with the melted snowman on the burner. Observe the steam and the change from liquid to gas.  Discuss this state of matter.
**Place the burner and pot of water away from students and out of student reach.**
During or after the experiment, complete one of the activity sheets!
This is such a fun states of matter activity and ties in perfectly to winter themes!
You can download everything above, HERE.
A few other states of matter activities are these flip book craftivities. I recommend completing one book a day throughout your unit.
Each book has 3 activity pages. You could pick and choose which of the 3 you want your class to complete or do all 3 – totally up to you and what works best for your class!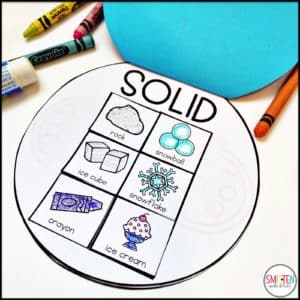 For this one, students identify which objects are the matching state of matter and glue them in the squares.
Identify the particles in each state of matter by coloring the correct representation.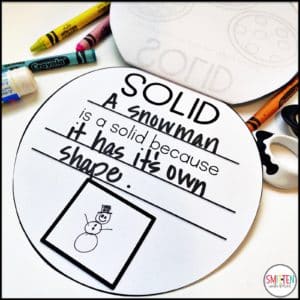 and lastly, describe and draw an example of each state of matter.
You can find the book craftivities HERE.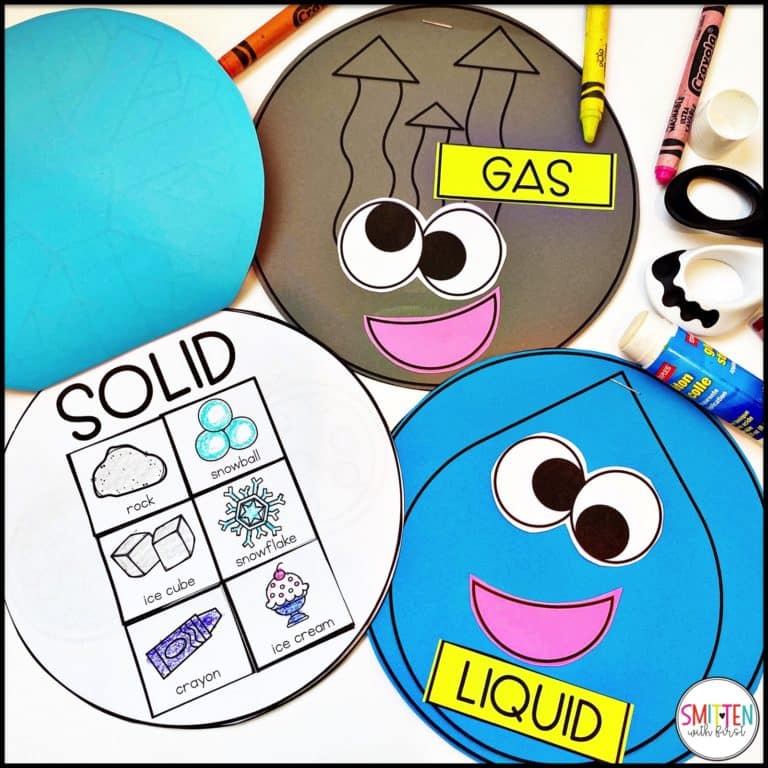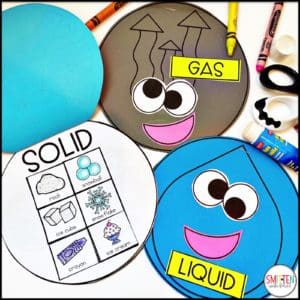 Here are some good You Tube videos for States of Matter!
Sid the Science Kid – My Ice Pops
You can save this post for later by pinning any of the pictures to your Pinterest or by pinning the collage below.