Sharing one of the cutest All About Me activities with you today. These make the most precious back to school bulletin board (and keepsakes).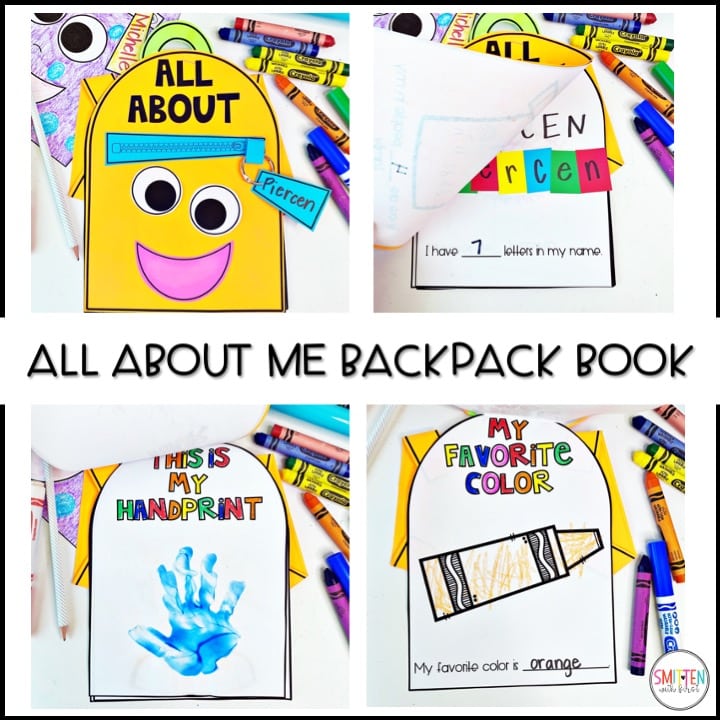 These come with over 40 different all about me pages to pick and choose from and for differentiation based on the level of your students.
To complete the books, I recommend completing maybe 1 – 2 pages a day depending on the age/grade level of your students. These can certainly be an activity that is completed over an entire All About Me unit. They do not have to be completed in a day.
If your students aren't quite ready for cutting/gluing, they can use the blackline option to color!
Let's take a look at one that my youngest completed a few years ago when he was around 5 or 6. That itty bitty handprint is so very precious to me. I think the parents/guardians of the students in your class will treasure their child's handprints and book, too. They certainly make an adorable keepsake!
Students could also trace or stamp their hands rather than using paint!
Students could write their name, stamp it, use letter stickers, or glue down pre-made letters!
If your students are older grade level (1st, 2nd or even 3rd grade) there are All About Me pages for those ages as well. Also, there are blank pages! Let's look at the older grade level pages!
This are just a few examples!
You can find these All About Me books HERE!
With over 300 reviews, here's what other teachers are loving about these!
"This has been such a fun "All About Me" activity – our backpacks are hung in our classroom for our friends to read. Soon, they'll go home!"
"My students LOVED doing this and seeing it slowly come together. They did one page a day at the beginning of the year. It was a great way to see their printing, their drawing abilities, their cutting abilities etc! so great!"
Click here for more Back to School activities!