Sharing a fun and interactive end of year math game today! This game covers 1st grade math standards but could be used in 2nd grade during back to school time to review 1st grade skills.
This game is so much fun and very little prep! Just display it on your Smart Board or interactive whiteboard and wha-lah…game time!
End of Year Math Game
To play, divide the class into 2 teams (Red Team/Green Team). Red Team chooses a number. Click the number they chose. Clicking the number will take you to the corresponding question slide.
Let's say the Red Team chooses number 1. The number 1 slide will appear.
Students answer the question. They can write the answer (A, B, or C) on their recording sheet and/or their team can call out the answer.
You can click the number in the top left corner of the question slide to reveal/check the answer. Then, a check mark will appear on the correct answer.
Then, click the home image to return to the Four in a Row score board.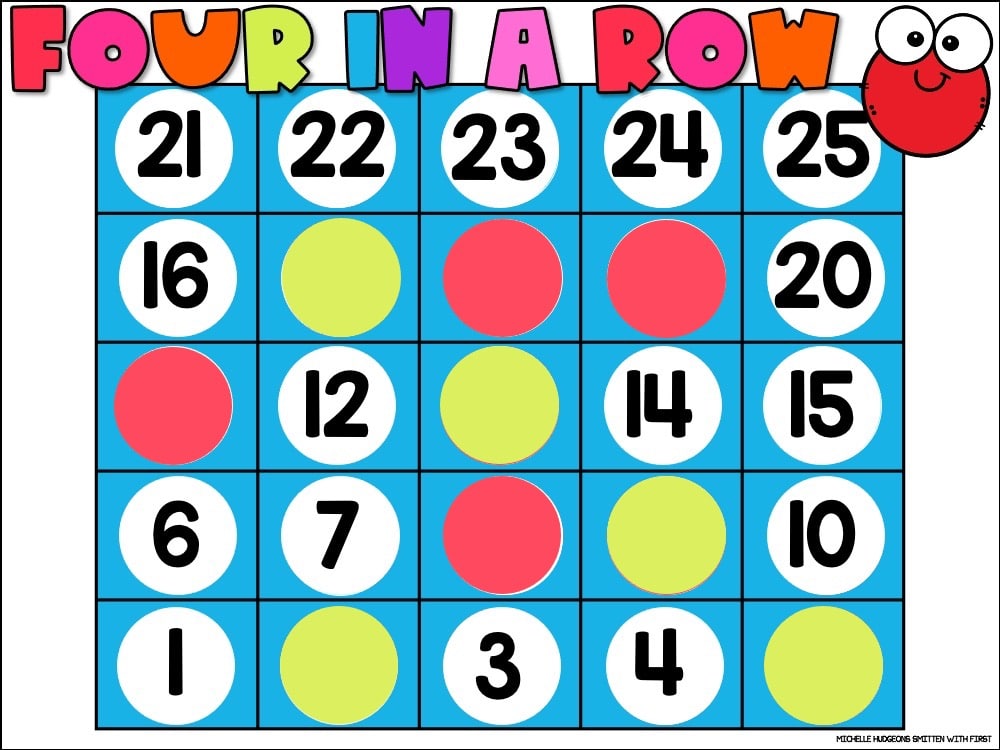 Once you return to the home screen (score board), a red counter will automatically be on the corresponding number. If the Red Team got the answer correct, leave the checker as is.
If the Green Team got the answer correct, click the counter and it will automatically turn green. Or if it is the Green Teams turn, click the checker two times and the checker will automatically turn green.
If a mistake was made or if neither team got the answer correct, click the green checker to clear both checkers/colors.
Here are a few different ways to use this game:
*WHOLE GROUP REVIEW – display the PowerPoint game on the classroom Smart Board!
*MATH CENTER/STATION – display the PowerPoint game on an iPad or computer for students to play!
*BACK TO SCHOOL REVIEW – perfect for the beginning of 2nd Grade to review 1st Grade math
standards!
*END OF THE YEAR REVIEW
You can find this game HERE or by clicking the button below!
Here's a quick video preview of the game in action!
Click HERE for other End of Year activities!