But for real though….give me A L L things apple and I am one happy teacher!  I love this time of year, especially in the classroom!  Apples, scarecrows, pumpkins, bats, and then turkeys, and all things holiday and winter! So much fun!
I wanted to share this super-duper easy to make Johnny Appleseed activity with you all.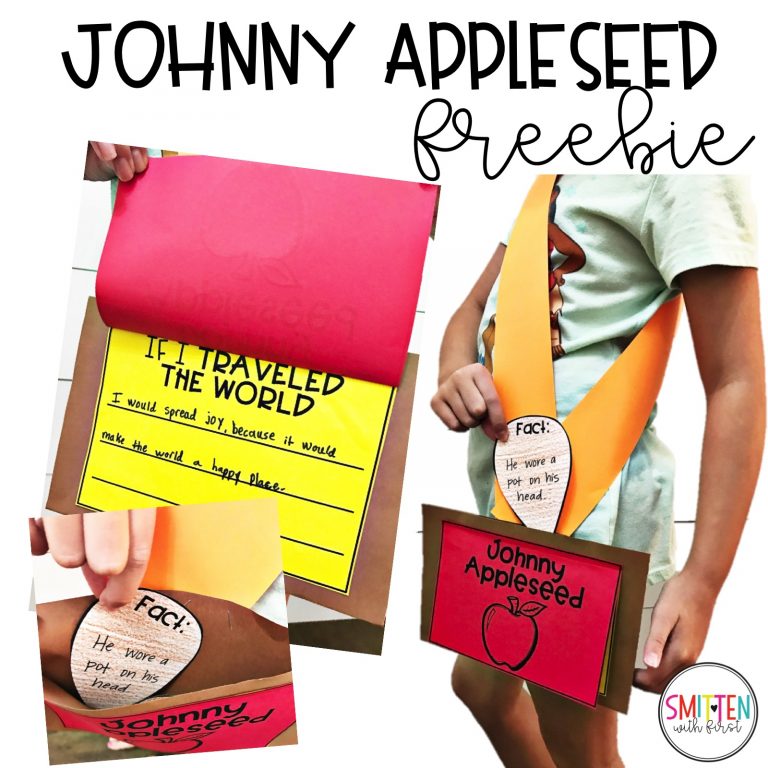 All you need are sentence strips and these templates to create it.
Each student will need 2 sentence strips.  Staple the sentence strips together to create one long strip.  You can add more sentence strips if needed.  You want the strip to be loose like a satchel strap.
Staple the bottom of the sentence strips together.
To create the bag, students will fold a piece of brown construction paper in half (vertical) and glue the sides together – leaving the top open.  Glue the writing template to the front and the cover page on top of the writing template.  The cover page will flip up so it only needs to be glued at the top.
Staple or tape the bag to the bottom of the sentence strip.  Students will write facts about Johnny Appleseed on their seeds and place them inside the bag.
…and wha-lah, your students now have their very own Johnny Appleseed satchel!
You can download this freebie along with the directions HERE.  
I hope you are your students love it!
Need to pin and save for later? Use this picture!