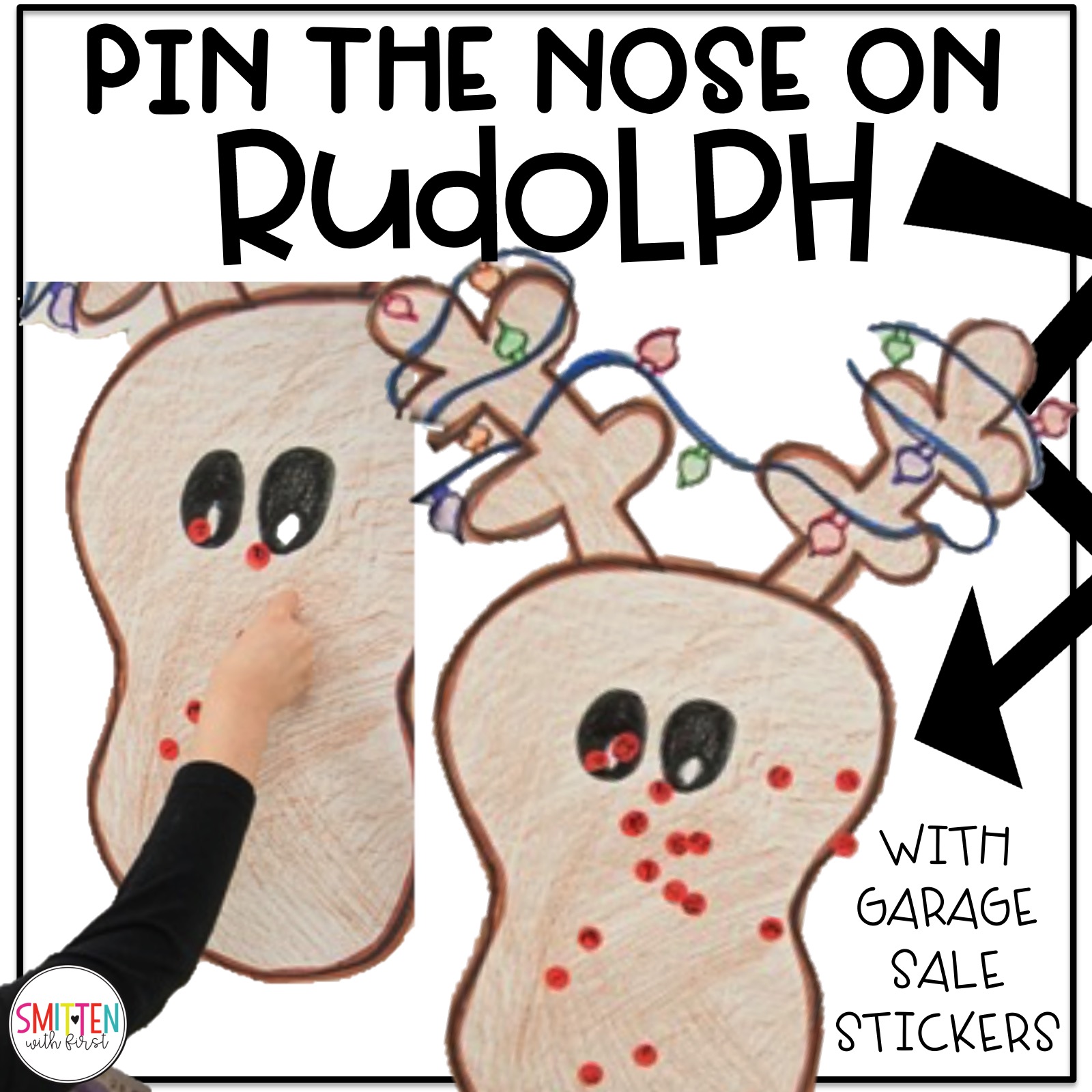 One of my favorite games to play this time of year is :: Pin the Nose on Rudolph!
Students have a blast with this game and it is perfect to play during those few weeks before winter break when we're all antsy. In the past years, I have used this game during whole group to review content and as a class party game.  All you need is chart paper to create Rudolph's face and these garage sale stickers!
Here's a look at a few ways that you can incorporate this game into your room.
Content Review Game
Like the good 'ole fashion flash card races! The student that answers the question on the card first, or correct, gets to pin the nose on Rudolph. Students close their eyes [no peeking] while sticking the red dot on Rudolph's face. Flash cards could be task cards that are pre-made, or just hand written questions on index cards. This is a favorite!
Behavior Management
We all know that this time of year can be quite the challenge in the classroom on some days.  One way to use this game is by displaying the Rudolph face on the board or bulletin board [somewhere that is always visible to students].  When you see a student following the rules, going above and beyond, following directions, making good choice, etc. have them grab a red dot sticker [Rudolph's nose] and put their initials or class number on it…and pin it on Rudolph's face. Remind them to close their eyes and no peeking! I promise you…ALL your students are going to work super hard making good choices so that you will call their name to pin the nose on Rudolph.
Class Party
This is played very much like a piñata game at a party. Students line up…the student at the front of the line closes their eyes tightly, spins around, and then pins the nose on Rudolph. This is a blast and the students have so much fun playing it!  They giggle and just absolutely love it!
Reindeer Day
Another way to incorporate this game is to use it during your class' Reindeer Day.  If you choose not to make Rudolph, you can purchase solid white sticker dots and color them black or these black sticker dots.
It doesn't have to be anything fancy – just a reindeer and some colored sticker dots! You can read how we used it on our class Reindeer Day [last year] here.
Did I mention how much the students love this game?! Try it. It'll be a hit in your classroom!
::Pin and share with your friends::
SaveSave
SaveSave
SaveSave
SaveSave
SaveSave
SaveSave