Elizabeth from The Kinderhearted Classroom and I collaborate on a math resource called Storybook Math. Y'all. I love it so much. It includes math activities and read alouds. I wish I had it years ago. It takes math standards and integrates those standards into literacy through suggested read alouds. With Storybook Math, Elizabeth and I have chosen books that include mathematical ideas and connected those books to specific math standards so that students can make real world connections and see how math is used everyday. Elizabeth has an amazing post about the power of connecting math to literacy, here.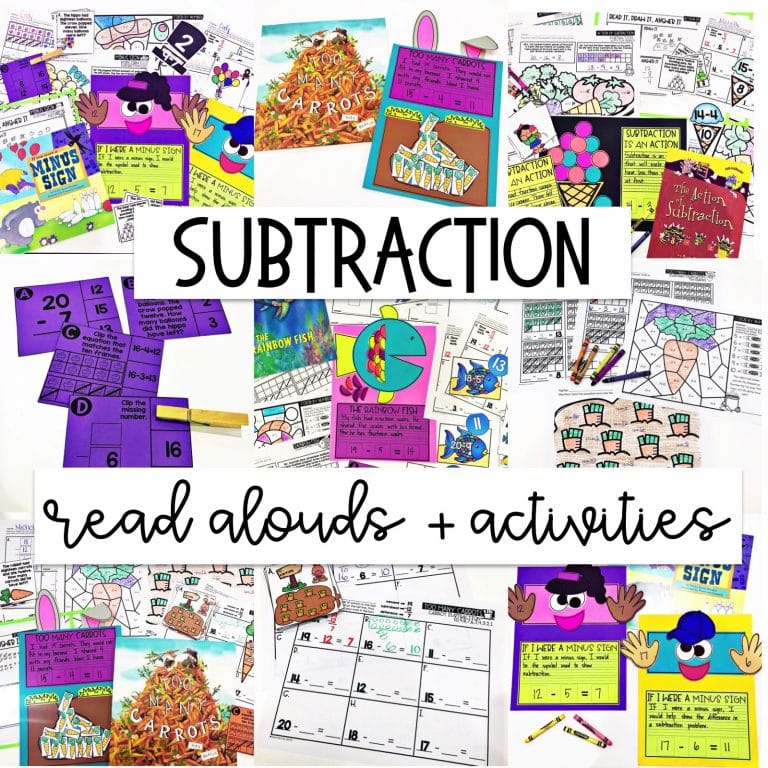 This post contains affiliate links. 
Today, I'm showing you our Unit 5 Subtraction to 20 Storybook Math for first grade. We also have a FREEBIE for you that we are sharing here in this post. Yippee! We also have Kindergarten Storybook Math available here.
Subtraction Activities and Read Alouds
When Elizabeth and I created Storybook Math, we wanted it to be a "grab and go" resource where you can pick and choose which supplemental activities work best for you and your students. Each unit includes 4 suggested read alouds, read aloud guides for before, during, and after reading, craftivities, centers, interactive math mat, and printables. Let's take a look.
First up…
If you were a Minus Sign by Trisha Speed Shaskan : This is a wonderful book for introducing subtraction and what subtraction does. It's also great for teaching what the actual "job" of the minus sign is. I just love it! Included in the supplemental craftivity is the craft templates plus a response sheet. Students can write what they would do if they were a minus sign or write a subtraction story problem. You can find the book
, and the craftivity here.
Center activities : The card activities above can be used as a "Write the Room" activity where you tape the cards around the classroom and students record the answer on their recording sheet. You can also put the cards in a table station and students can work together to solve them – either way works!
A few other centers are these subtraction clip cards (I love the variety in these) and puzzle cards. You can download the puzzle cards HERE.
Interactive Math Mats : This math mat can be used during partner work, intervention, or in a center. Place the mat in a page protecter with an Expo marker and you're ready to go! Students read a card, solve it on the mat, and then place it on the check mark once they have completed it.  You can find the page protectors
Another way you could use the mat is by placing it under a document camera and solve together with the class.
Printables : These supplemental printables are differentiated so you can choose which one works best for your students. These is also a Color by Number included as well. Great for getting those assessments in or grades!
Here's a look at the other suggested read alouds and supplemental activities for Unit 5 1st grade. Each one (included in first grade) comes with the same components as I showed above. You can find them all here.
//
//
You can save this post by pinning one of the pictures below.
Kindergarten subtraction read alouds:
Hands's Surprise //
//
//
If you are needing Storybook Math Subtraction for Kindergarten, it is available here.