Here's this week's weekly recap!
*all the links are posted below the pics*
IG POSTS FROM THE WEEK: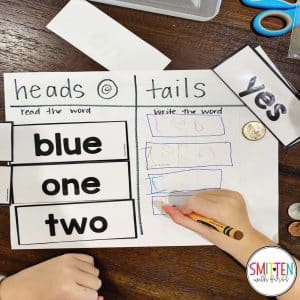 Little P is working on sight words this week.  He played this simple but fun game called Heads or Tails.  To play, stack the cards in a pile face down.  Flip a coin and flip over a card.  If the coin lands on head, read the word.  If it lands on tails, write the word.  This was so simple and fun.  You can find a full list of ways to practice sight words in this free download here.
He loves maps, so we incorporated them into his sight word learning. This is a spin on the classic "write the room".  I drew up a quick map of the area that I placed all the sight words in and taped the words on the walls, furniture, etc.  Once he found the word, he had to read it out loud and mark it with X.
Printable September Write-tivities // Digital September Write-tivities
BOOK OF THE WEEK: 
Love this book for back to school reading or anytime during the year!
FAVORITE RESOURCES OF THE WEEK: 
Digital Math Activities Growing Bundle 
Sight Word Practice Pages Bundle
Phonics Friends Growing Bundle
FREEBIE OF THE WEEK: 
Building Numbers to 20 FREEBIE
OLDIE BUT GOODIE BLOG POSTS: 
If you're interested in seeing what Phonics Friends are, there is a full blog post explaining them here. There's also several others here.
*follow me on Pinterest HERE*
*follow my TPT store HERE* (I discount all new released resources for 24 hours…sometimes longer!)