I cannot believe we are just a few weeks away from Christmas!  This year has flown by.  If you've been a teacher for a hot minute then you know that the few weeks before the holiday break can be crazy busy.  I want to share my December STEM activities with y'all in case you're looking for something to use during those crazy busy weeks leading up to the break.
December Holiday STEM activities
If you've used my other monthly STEM activities then you're aware of how easy prep these are.  You can choose to use these activities all month long, for one week, one day…whatever works best for you and your classroom.
There are 2 levels of journal reflection pages: level 1 is a simple format (kindergarten or beginning of year 1st grade) and level 2 is more advanced format (1st grade and/or could even be used for 2nd).
There is also an editable parent/guardian donation letter to send home for any items needed to complete the STEM activities.
The December pack includes 7 stations in both color/black white. Here's a quick look at each station activity.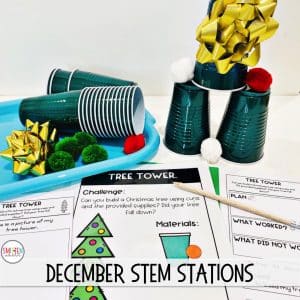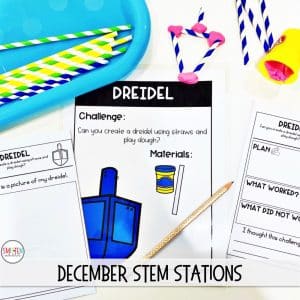 Also, here's a list of several other blog posts that include Christmas/holiday activities; Pin the Nose on Rudolph is always a favorite!