We are officially on the countdown over here!  1.5 days left before the break and we are so ready.  I know this time of year can be a little hectic, so I wanted to share some activities that you could use just incase you're looking for something to keep your students learning and engaged before the break!
SANTA NUMBER SENSE (FREE):  You can download this here.  It comes with different options (numbers, addition, and place value). You can also read more about it, here.
CHRISTMAS SOUND MATS (FREE):  These are so much fun and add way more excitement to sound segmentation + they are no prep!  They work great for RTI, tutoring, word word stations, group practice, or partner games.  Students decode a word by using the sound circles on the mat.  Students "push" a manipulative (candy, bells, pom poms) into the sound circle for each sound.  Another option is for students to "smash" a manipulative (play dough or marshmallows) for each sound they hear in a given word.  I'm tellin' ya – these are loads of fun…especially the marshmallows.
You can download them FREE, here.
CHRISTMAS GAME MATS (EDITABLE): Simply print these + the editable cards off and put your students in group for some educational fun!  What I love about these mats is how versatile they are.  Students can practice math fact fluency, sight words, word recognition, letter sounds, or any other concept that you type onto the editable cards.  Once a student completes the card, they add a manipulative to the game mat.  The goal is to fill the mat. Perfect group game!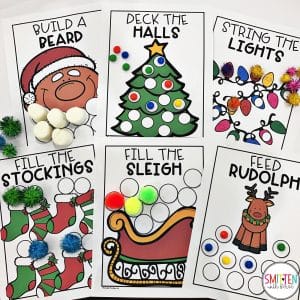 Students could also use these to practice reading sight words with a partner.  Students fill the Christmas tree with two different colored ornaments [M&Ms] after they read a word correctly.  The partner that has the most ornaments on the tree – wins!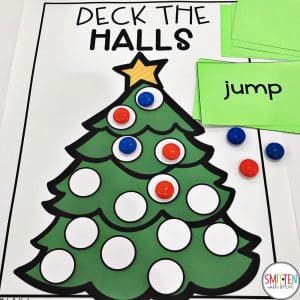 These are loads of fun!  You can read more about these Christmas Game Mats here.
DECEMBER STEM ACTIVITIES: These are *perfect* for those last few days before the break!
You can read all about them here!
DECEMBER WRITING CRAFTS: Okay, but for real, who doesn't love a cute writing craft hanging in the hallway?!  There are several to choose from here…46 to be exact.
Speaking of writing, here is a FREE ELF DIRECTED DRAWING WRITING ACTIVITY! These always turn out adorable! You can download it here.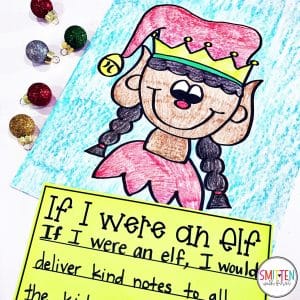 MOOSELTOE! This will forever be my favorite activity to do this time of year. You can find it here and read about it here.
PIN THE NOSE ON RUDOLPH GAME: This game is always a hit!
This game can be used for content review, behavior management, class party, or even for a Reindeer Day.  You can read all about it HERE.
GRINCH ACTIVITIES FOR GRINCH DAY: You can find all these activities here!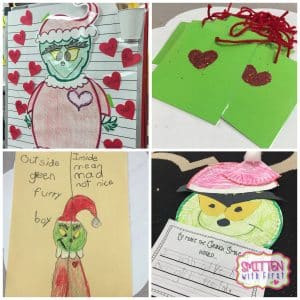 Okay, one more idea: PLACE VALUE PICTURES! This is super old (like 2014 old) but it is still a great and fun way to review numbers and place value.  You can find this activity here.
Whew, that was a lot but I hope it gives you some ideas that you can use in your classroom!
Merry Christmas and Happy Holidays!