Happy Wednesday! I hope y'all are having a great week. I wanted to share several Martin Luther King Jr activities + free anchor chart and free craft with you all! Hopefully these activities are all helpful to you and make your lesson planning a little easier.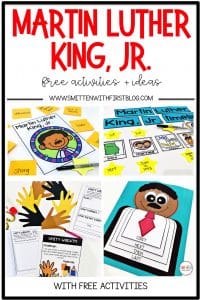 MARTIN LUTHER KING JR ACTIVITIES
First up, are these MLK write-tivities.  If you've been here for a while, then you know how much I love me some Write-tivities!  What I love about these is that they hit the writing standards + double as a cute bulletin board display!  They could be completed during a writing station throughout the week, follow up to a MLK read aloud (see list below), or simply writing facts about MLK!
Speaking of writing facts, this FREE anchor chart is great to use for that, too!  You can use it to write facts or character traits depending on which standard you're hitting.  It's super simple to put together…just print, glue, and go! It can also be used year after year – laminate and then use any  sticky notes (plain or themed) to record the class' learning onto.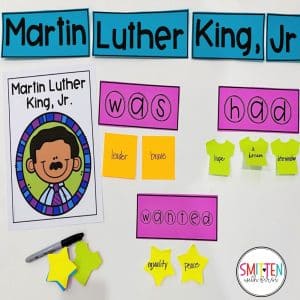 This flip book could be used as a follow up activity to one of the anchor charts above or to a non-fiction read aloud.  I love these flip books! A-DORABLE!
Another favorite is this STEM activity.  It can easily be integrated into a daily station. PLUS students can take their Unity Wreaths home with them afterwards.  They could also write words on the hands that describe MLK and use the anchor chart (above) as a reference.
Here is another free anchor chart for MLK to create a timeline of some events throughout his life.
…and a free hat-tivity that can be used to create a hat to celebrate MLK Day OR to create a timeline of events.
I came across a few YouTube read alouds and informational videos that I thought were great for MLK Day. They are linked below:
The Story of Martin Luther King, Jr. by Kid President (video – this is so good)
Martin Luther King, Jr. Brain Pop video
Dr. Martin Luther King, Jr. Biography (video)
A Picture Book of Dr. Martin Luther King, Jr. (read aloud)
I am Martin Luther King, Jr. (read aloud)
The Story of Martin Luther King, Jr. (read aloud)
And there you have it – freebies and favorites!
Again, I hope you are able to use these and that this post helps with your lesson planning.
Save this post by pinning the picture below!