Hello and happy Friday!  I wanted to show you these PrePrimer sight word activities that I have been doing with my youngest.  He is loving them and is doing so well recalling the words we have learned so far.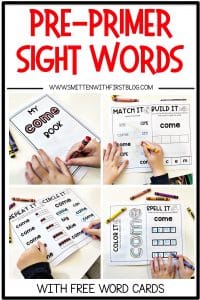 PrePrimer Sight Word Activities
Each week we learn a new word.  This of course could be done differently in your classroom; this is just what works for us.  Each day we will do 1 – 2 pages to practice that week's word.
For example, Day 1:
after I introduce the sight word for the week, we start off with the first 2 pages of these Interactive Sight Word Books.
He reads the word and completes the math activity for each time he reads the word.  Because I am doing preschool at home with his this year, I try to integrate as many different skills within 1 activity as I can.  I love this Repeat It page because students are getting fluency practice plus math practice.  Some of the sight word books include shapes, number identification and formation, counting, and different representations of subitizing.
Next, is Circle It.  We practice reading and identifying the word for the week.  Also, we look for any other words we have learned previously.  This is also great for incorporating visual scanning which is a developmental skill that we are working on.
Day 2:
Color It and Spell It.
With Color It, students trace the letters in the word multiple times using a different color each time.  This incorporates spelling as well as letter formation, and tracing/fine motor.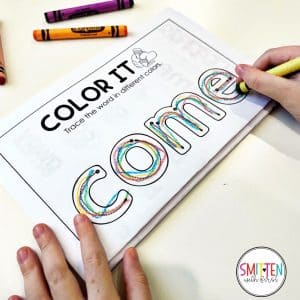 Day 3: (sometimes we break these two activities into 2 days)
 Match It and Build It
Match It: Students are practicing visual discrimination by identifying the match to the sight word.  They are all the sight word used in the book, just in different fonts/sizes.
Build It incorporates several skills: spelling, cutting, gluing, and fine motor.
Last Day:
Read It.  Students read the sentences.  Each sentence uses the sight word in context.  Also, each sentence uses a decodable cvc word.  I really wanted to make sure that these sentences were ones that were developmentally appropriate for prek/kinder/or lower level 1st grade.  The sentences also only include sight words from the PrePrimer list.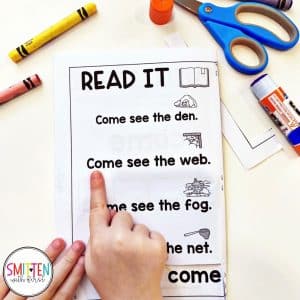 You can find the PrePrimer Interactive books HERE.
Something else we do each day is read this Sight Word Reader.  These include the same sentences as the ones inside the Interactive Books.  We read it daily during our school time and then I also have him read it one time at night.  These could definitely be sent home as a homework reader.  Also, I like to laminate them so that we can use them for years to come!
You can find the PrePrimer Sight Word Readers HERE.
Lastly, I wanted to share these PrePrimer word cards with y'all. They are a FREE download! These can be used on a word wall, flash cards, memory game (print 2 sets), Read the Room, Musical Words (see math examples here), ….so many ways to use them!
You can download the cards for FREE HERE. 
Want to save this post for later? Pin the picture below!