Sharing a quick look at short vowel i phonics activities and games within Phonics Friends. If you aren't sure what Phonics Friends are, they are phonics characters and activities that teach the weekly phonics skill through engaging, interactive, hands on, and fun ways to practice! I love them. You can see more Phonics Friends HERE and see what teachers love about them HERE.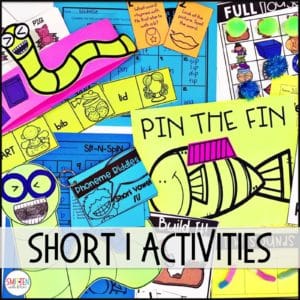 SHORT VOWEL I PHONICS ACTIVITIES AND GAMES
Here is a break down of a full week (day by day).
**DAILY COMPONENTS/WARM UPS**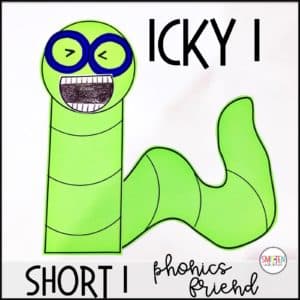 Phonics Friend Icky I is an anchor for short i learning.  You can display Icky I on your board to reference to during the daily lesson.  We used our friends daily.  I used them on the 1st day to introduce the sound/spelling rule and then I used it every day after that when starting our phonics time.  I would say something like: "class, who is our Phonics Friend this week?", "what sound does our friend say/make?", "when do we use this Phonics Friend?" etc. I also displayed all the Phonics Friends on a wall for students to reference to throughout the school year.
Icky I helps students remember the short i sound.   When Icky I is between two consonants, he starts to feel really icky and says, "iiiiii" as in the short i sound.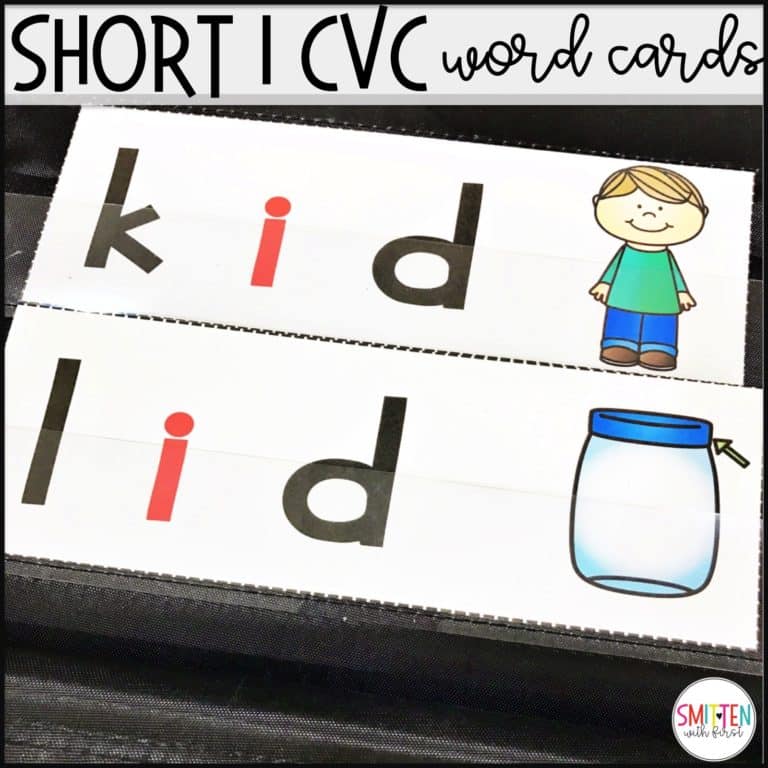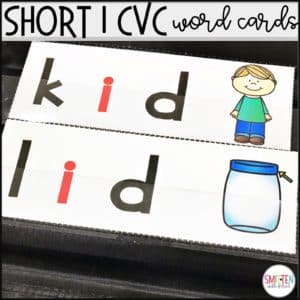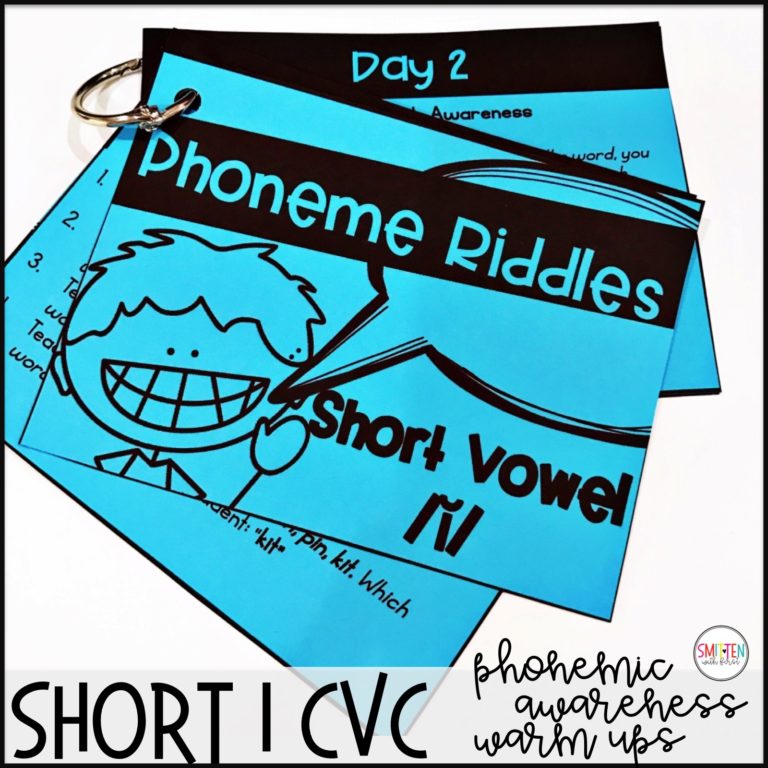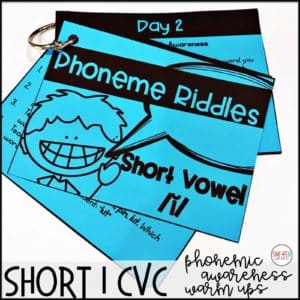 Word Cards and Phonemic Awareness Warm Ups can be used daily. You can display the Word Cards on an anchor chart or on a whiteboard by placing magnetic tape to the back.
The Phonemic Awareness Warm Up Cards can be attached to a metal ring by hole punching the top. They can be hung on an easel, the whiteboard, or wherever the whole group lesson will be.  There is a different focus each day with the Phonemic Awareness cards.  Here is a breakdown of the daily focus within the phonemic awareness warm ups: recognize rhyme, syllable awareness, blend onset/rime, produce rhyme, and isolate sounds.
Let's look at the individual components for each specific day.  Each day is broken down by:
– whole group (direct teach and guided)
-independent practice
– word work (center)
–home connection
All the details are included on the lesson plans.  The lesson plans are simply a guide…and ideas.  As always, you know your classroom and students' needs best so I always suggest that you use Phonics Friends in a way that works best for you and your students!
**DAY ONE:**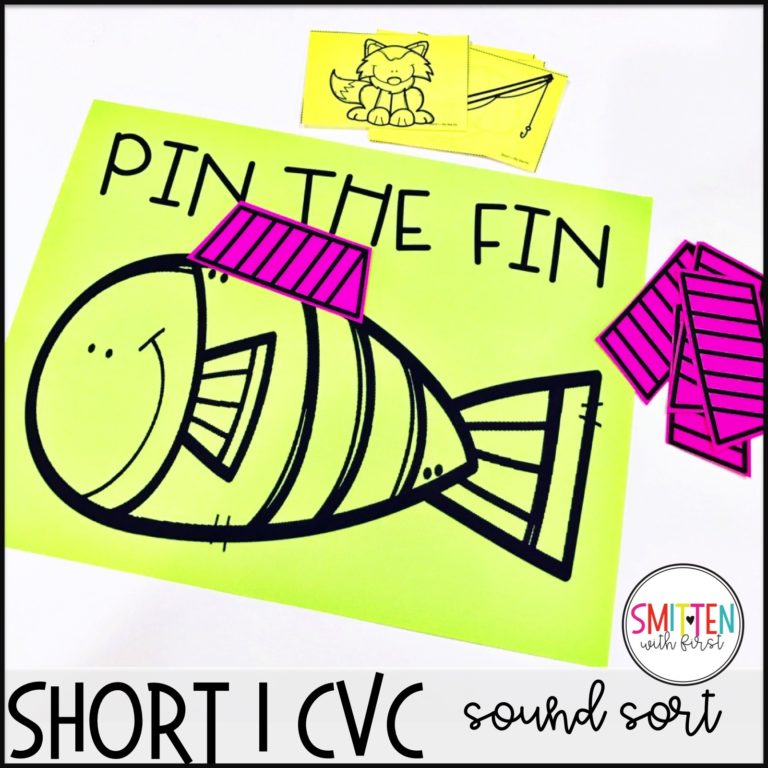 Pin the Fin is a whole group activity played like the traditional game: Pin the Tail. Prior to playing, the teacher displays the fish poster on the board.  Students make a line in front of the board.  The teacher shows the first student in line a picture card.  The student identifies if the picture on the card has the short i sound. If it does, the student will close their eyes and "Pin the Fin" on the fish.  I recommend attaching magnetic tape to the back of each fin.  If the picture card does not have the short i sound, then the student does not pin the fin on the fish.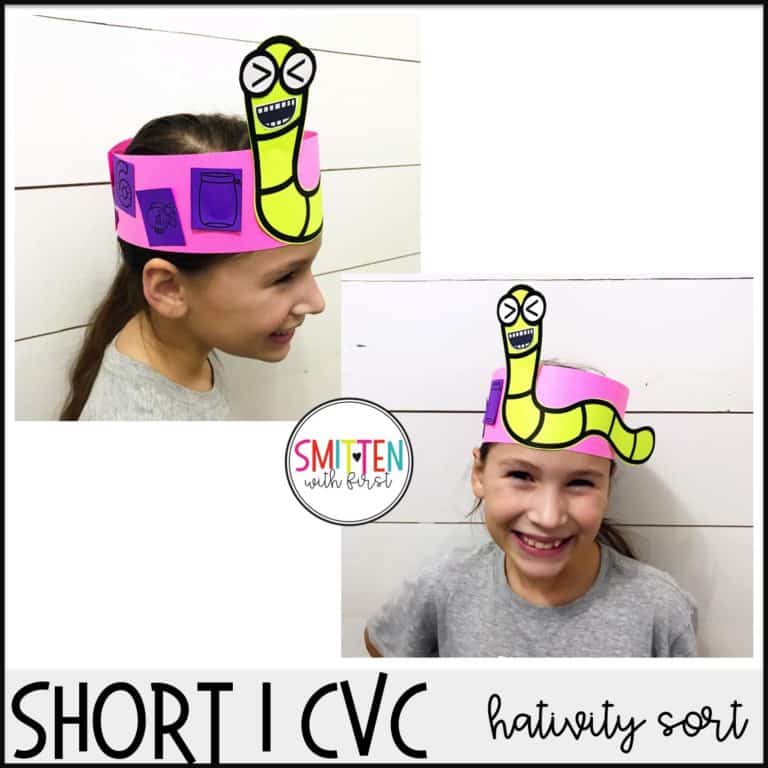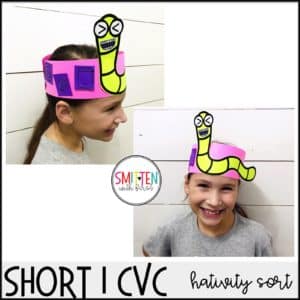 Icky I Hativity is an independent activity. Students sort the pictures based on whether or not they hear the short i sound in the picture.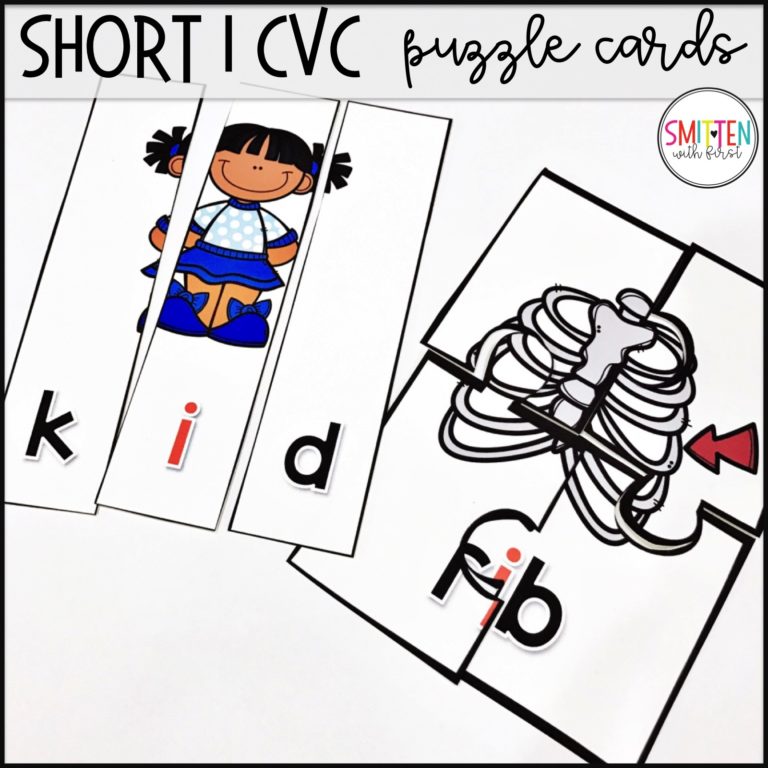 Puzzle Cards are a Word Work activity for stations.  Day 1 Word Work is called "Make it Monday".  Students work with their station partner(s) to make the short i words. There are 2 versions (see picture) of the puzzle cards included within the resource so that you can choose which one works best for you.
Sound Bracelets are a Home Connection activity for students to take home and show off their day 1 learning with their parent(s)/guardian(s).
**DAY 2:**
Icky Sounds is a guided practice activity where students segment the word that is called out into the boxes.  They can use a gummy worms or a manipulative (cubes or play dough) for each sound. They could also use a wipe off marker and spell the word in the boxes.
Sit – N – Spin is an independent activity where the student spins a picture, segments the word, and spells it in the boxes. This also works for an informal assessment.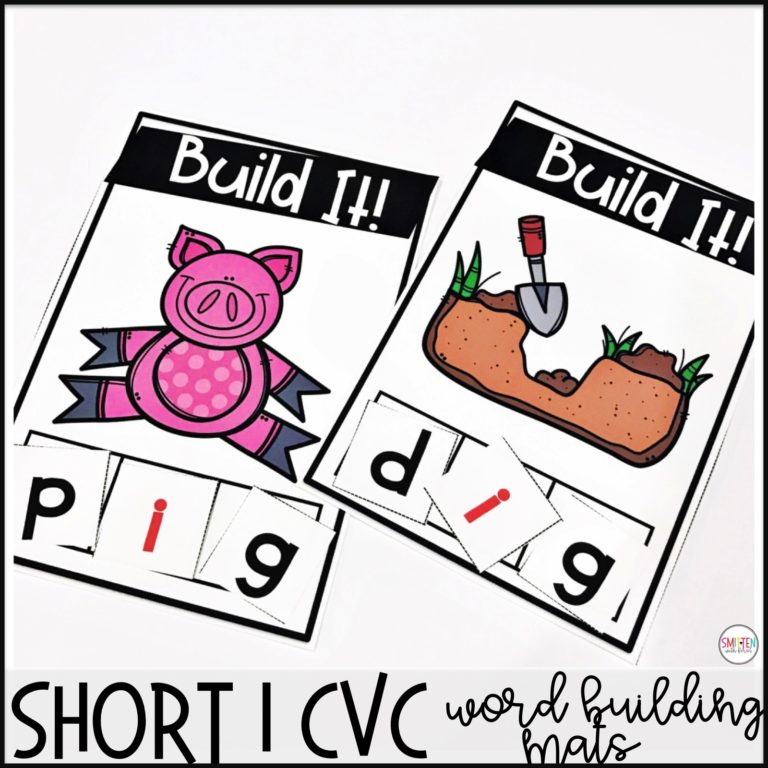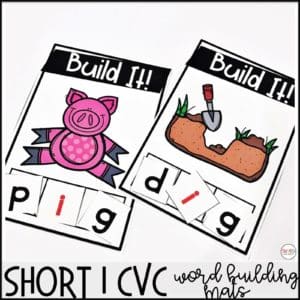 Build It Mats: Day 2 Word Work is called Build it Tuesday. Students build the words on the mat in a center/station.
Spin and Build is Day 2 home connection activity.  It could also be used as an independent activity if you do not use homework in your classroom.
**DAY 3:**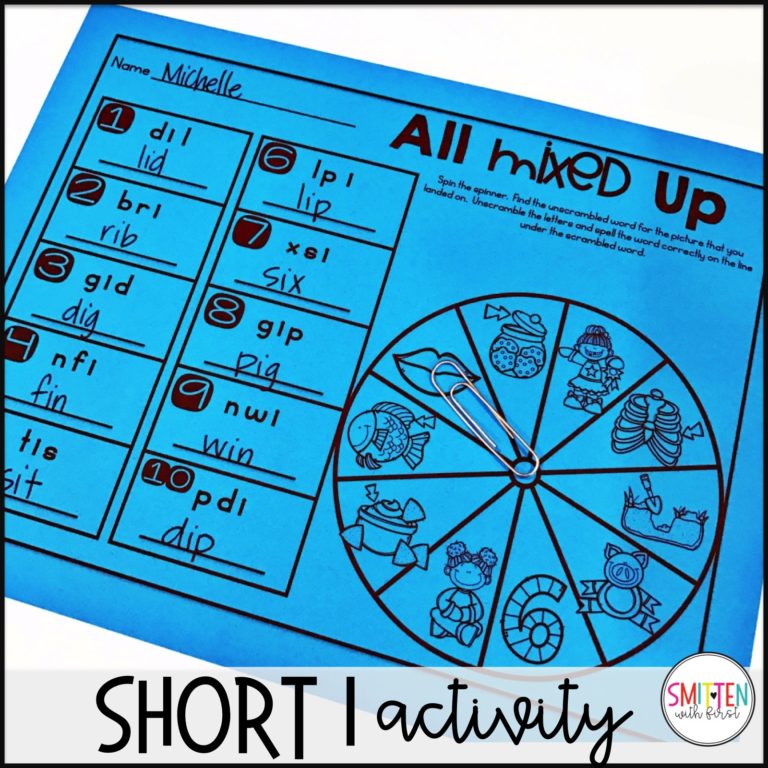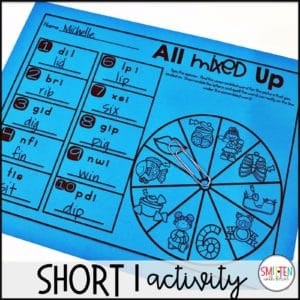 All Mixed Up is an activity where students spin the spinner.  They find the unscrambled word for the picture they landed on, and write the correct spelling for the picture they land on under the scrambled word.
Heads or Tails is a partner game.  I love this game and like to use it across subjects! You can see how I used it with Sight Words here. Students take turns flipping a coin to spell a word next to the pictures. For example: Michelle flips the coin, lands on heads, and chooses a picture to spell.  Then, Cody flips a coin.  If he lands on tails…he will spell a word on his side….if he lands on heads, then Michelle will spell a word.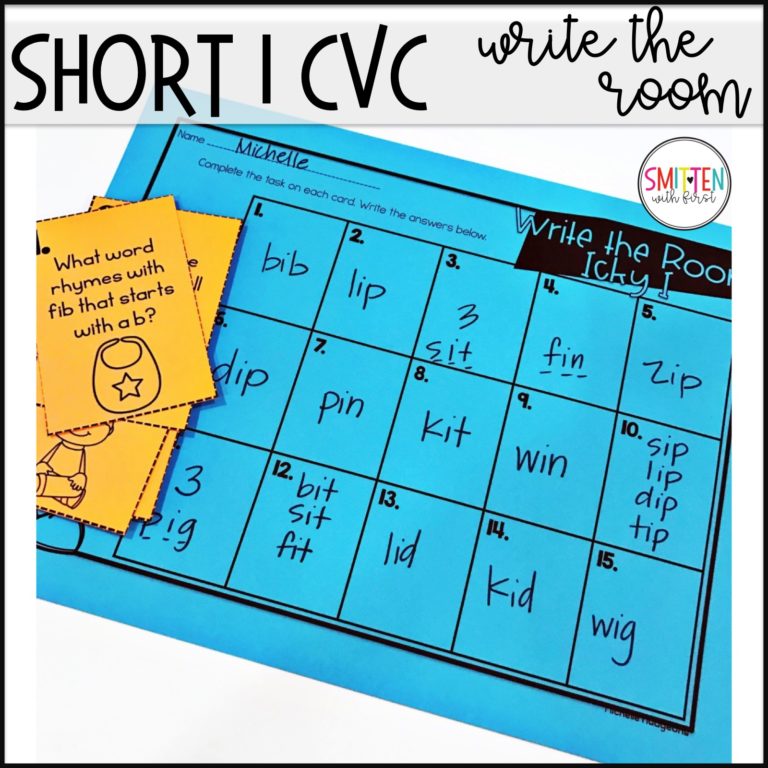 Day 3 is Write it Wednesday for Word Work.  This is a Write the Room activity that covers a plethora of  skills and goes beyond just copying the word on the card.
The Home Connection activity for Day 3 Trace, Write, and Match. Again,  this could be used as an independent activity if needed.
**DAY 4:**
Mix and Find can be played as a whole group.  Each student will need a Mix and Find picture card.  They will walk around the room and find a partner.  If their partner has a card with the same word family as their card, then partners write their word on each others recording sheets. After writing their words, partners switch cards and repeat the steps! This one applies lots of different objectives through the game!
What's that Word is an independent matching activity that can be used in a phonics notebook or glued to a piece of paper.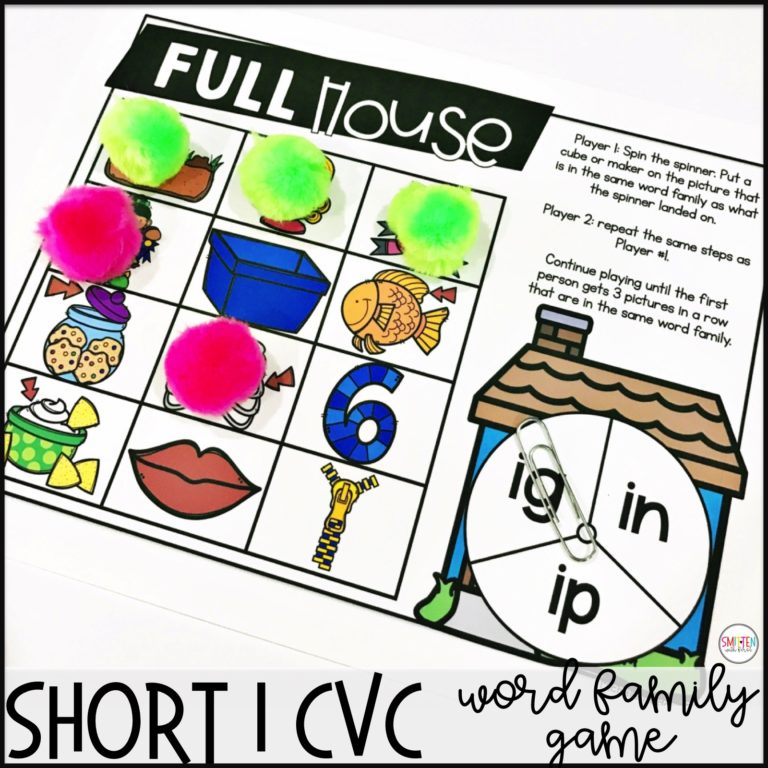 Full House is Day 4 Word Work for "Thinking Thursday". It is a partner game where partners take turns spinning the spinner and finding a picture that matches that word family.  The goal is to get a full house by getting 4 pictures in a row!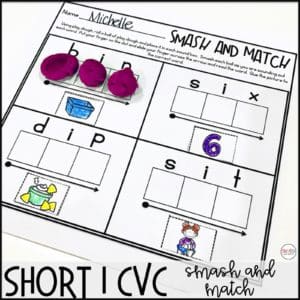 Smash and Match is the Home Connection for Day 4.
**DAY 5:**
PIG! This game gets them up and moving and is fun way to practice reading words! Teacher turns music on, students move around the room, and trade cards with another student.  When students trade cards, they read the word on the card they receive. When the music stops, the teacher says "PIG" and the student(s) holding the PIG card wins that round.
To wrap the week up, students can take a Spell Check with the words used within this resource or other words that follow the short i spelling pattern.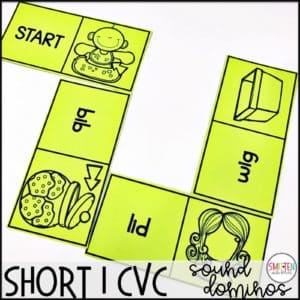 Day 5 Word Work is Fun Friday and these word dominos are just that. FUN!
And on the last day, students can take home the Sound Master Award to celebrate their hard work all week.
Lots of things, but I wanted to make sure there was more than enough ways to practice short i!
You can find all of the activities (plus lesson plans + week at a glance) HERE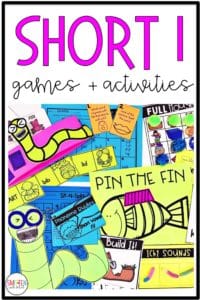 You can find other Phonics Friends post HERE and all of the Phonics Friends HERE
Phonics Friends WITHOUT the activities and plans (Just the Friends) are available HERE.