Whew.  It's been a while.  Between creating digital resources and navigating the remainder of my daughter's school year, I have been super MIA from sending out weekly posts.  I hope that you doing well and finally getting a chance to catch your breath!
Ok, let's get started with today's post.  Summer Writing Activities and Crafts! I am so excited about these.  Write-Tivities are one of my favorite resources.  Whether you're teaching poetry, narrative, descriptive, expository, opinion, or any type of writing really, there is an option for all.  Along with a variety of writing prompts, there are also several different brainstorming templates as well.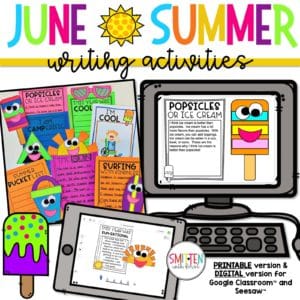 Oh, and before I forget to mention, some Write-tivities are NOW available in digital versions for Google Classroom™ and Seesaw™! YAY! You can find those here. The digital version does not include the brainstorming templates; only the prompts and craft.
Summer Writing Activities and Crafts
 Just like the other Write-tivities, there are 3 different versions of lines (single, double, and blank).
The blank templates are great for Kindergarten or for students to draw a picture/diagram/label.
These writing packs are packed! Here's a look at a few more prompts and crafts included with the June Writing Activities.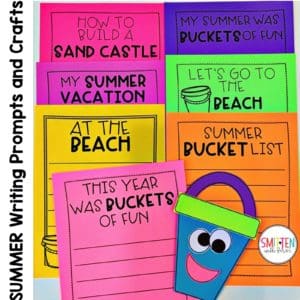 SO many options for the entire month of June!
There are 6 crafts and 55 different prompts included within the June Write-tivities.  You can see all the prompts listed HERE.
______________________________________________
Here's an example of the digital version. The craft pieces are interactive within Google Classroom™.  For  Seesaw™, the craft pieces are preset and students color them using the color tool.
You can find the Printable Write-tivities HERE and the Digital Write-tivities HERE.
 Want to save this for later? Pin any of the pictures above or the picture below.