Digital October Writing crafts and prompts are finally here! Yay! Years ago I created a full month worth of writing prompts and crafts for each month. You can see all the prompts and details for the printable October set here.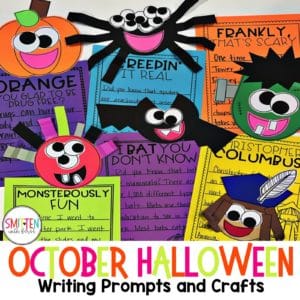 Digital October Writing Crafts and Prompts
I have been adding digital versions for Google Classroom™ and Seesaw™.  The digital versions do not include the brainstorming templates like the printable version; only the prompts and craft.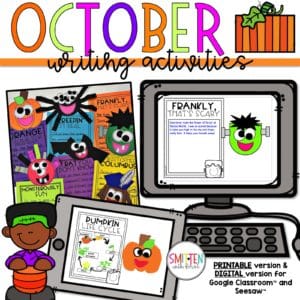 Let's take a look at the Digital October Writing!
The craft pieces are interactive within Google Classroom™.  For  Seesaw™, the craft pieces are preset into the template and students color them using the color tool. There are no preloaded or moveable pieces for Seesaw™. There are directions included on how to add the files to your  Seesaw™ library.
There are 44 different prompts that can be used with poetry, narrative, descriptive, expository, opinion, or just about any type of writing. There is an option for them all.  There are crafts for bats, pumpkins, monsters, spider, Frankenstein, and Columbus Day.
I hope these are helpful with your digital lesson planning!
You can find the Digital October Writing HERE.